We are updating our website!
In the meantime, take a look at some of our featured projects, and feel free to get in touch. Thank you.
Landscape Architecture and Forestry
Munro Landscape specialises in rural design, with expertise in forest and woodland related design and environmental projects. Munro Landscape was newly established in Argyll, Scotland by Kelda Platt in 2010 following a successful 7 years spent working for the Forestry Commission as part of the national Landscape Architect team.

Passionate about design...
and privileged to be a part of the landscape and forestry professions. Munro Landscape seeks simplicity in all of it's work and practicality in it's application. A hard working ethos, with an enthusiasm for the detailed aspects of construction, we love to be outside and our desire is that our work will inspire a love for spaces and places in those who use them.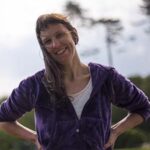 Chartered Landscape Architect
Kelda Platt set up Munro Landscape in 2010 following 7 years working for the Forestry Commission in England. Kelda is a Chartered member of the Landscape Institute and has specialist experience in the area of environmental and rural design. This experience also covers social and community developments, community consultation, play spaces, detailed garden design and Landscape and Visual Impact Assessment.
Simon brings to Munro Landscape over 20 years of practical forestry work and the planting of over 20 million trees, undertaken through various roles for Forest and Land Scotland and Forestry Commission England.  Simon's skills range from Forestry and Project Management to Contract Management and Forest Design, with expertise in forest management, forestry grant scheme applications and harvesting and marketing operations, as well as a range of recreation and habitat management projects.